Auto troubles can happen to anyone, at any time, anywhere. When you're broken down on the roadside, stuck in your own driveway, or parked in a lot with a vehicle that just won't work, give AATCO Transmissions and Towing a call. We'll come pick you up, providing 24/7 towing service in Nampa, ID to haul you back to our shop.
We tow any vehicle, no matter the situation! We work in close association with local, county and state law enforcement agencies in regard to towing service, making us Nampa, ID's premier, trusted towing service provider. And if your vehicle is beyond repair, we also wrecker services.
Light- and medium-duty towing: We haul most cars and light-duty trucks back to our shop for repairs, no matter where you've broken down. Our experts will make sure your vehicle is transported safely, without further issue. Best of all, we respond day or night to calls throughout the Nampa, ID area and surrounding regions!
Off-road recovery: If your truck or trailer is off the beaten path and needs a little help getting back on solid ground, we're the towing team to call. We offer winch-outs and off-road towing service in Nampa, ID, helping you get unstuck if you're in the mud, brush or a ditch. We even have access to certified divers, in case you drove into a lake or your vehicle is otherwise submerged!
Flat rate towing: We know a broken-down vehicle can be a headache, which is why we try not to give you another one. Our towing rate is flat and fixed, so you're not spending even more money just to get your car to safety. Call us and we'll get it towed affordably, so you can focus on the repairs that come next.
Wrecker services: Is your car too old to fix, and not really vintage. Maybe it's totalled and too expensive to get it roadworthy. When you're ready to junk it, contact us for fast and easy wrecker services in Nampa, ID.
Gas deliveries: Sometimes you might not need a towing service to get back on the road. If you played chicken with the fuel gauge and lost, we'll gladly bring you a few gallons to get you to the nearest gas station.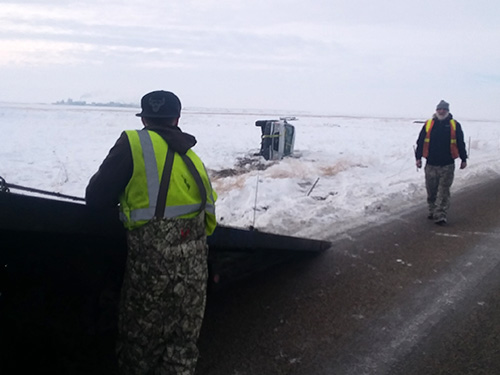 Call us for a tow!
If your vehicle isn't safe to drive or immobilized by mechanical failure, AATCO Transmissions and Towing is here to help.
Contact us today at 208-461-5675 and we'll dispatch a tow truck to your location, day or night.