Delivering transmission service in Nampa, ID is a big job that not every shop can handle. If you've got a transmission that's problematic or damaged beyond repair, look to AATCO Transmissions and Towing for service. Our shop is equipped to tackle transmission work in any capacity, from repairs and replacements to routine maintenance. We'll help you get back on the road with a transmission that works.
Repair: Problems with your clutch and the like can be fixed with the right approach to transmission repair in Nampa, ID. Our shop does all transmission repair work in-house, ensuring you're benefitting from seasoned expertise and quality workmanship. If we can save you from having to absorb the cost of a complete replacement, we will!
Replacement: If your gears are stripped or your case is cracked, it might be time to make the investment in a new transmission. We handle replacements and facilitate the entire process, from helping you locate the new system, to removing and replacing the damaged one. We make sure everything works flawlessly, so you can hit the road with confidence. Our work is backed by a quality guarantee.
Maintenance: Sometimes, avoiding costly transmission repairs is as simple as staying up on some routine maintenance. We can perform transmission fluid checks and flushes to prevent friction from ruining your transfer case. We're able to help spot and resolve similar problems before they get worse. If you notice red fluid leaking under your vehicle, schedule an appointment right away.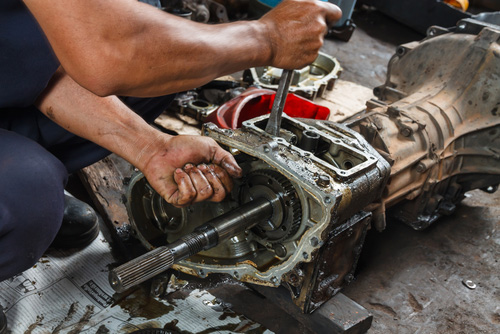 Trusted Transmission Repairs
Transmission problems don't have to doom your vehicle. If you need clutch work, rebuilds or a full-on replacement, AATCO Transmissions and Towing has got you covered.
Reach us today at 208-461-5675 for more information about our capabilities. Manual or automatic, regardless of the make or model, we welcome the work.